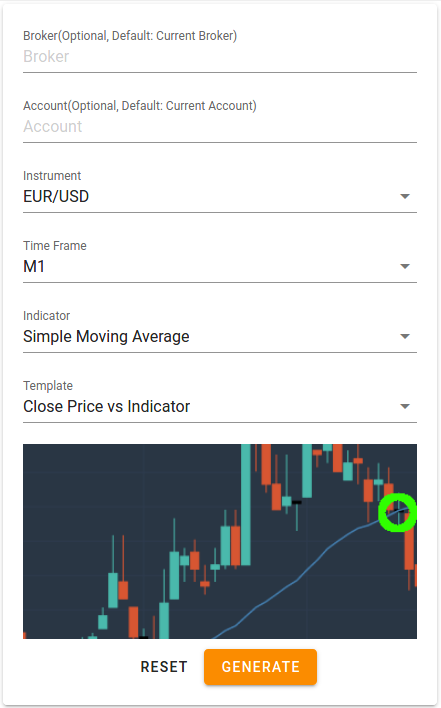 Expert Advisor can help traders monitor the market movements. Fintechee's Expert Advisor Studio is a suite of extensions and plugins that are comprised of trading instruments. It's for free forever and open-sourced(MIT license).
We provide an Expert Advisor Generator attached with our EA Studio which can generate EA Source Code.
Additionally, Expert Advisor Studio Download is not required. It's WEB-based and you can interact with it via our WEB Trader. What you need to prepare is just a WEB browser.
We can use the EA Code Generator(EA builder free) to generate Forex EA Source Code, CFD EA Source Code, Stock EA Source Code, and Cryptocurrency EA Source Code. It's all for free forever! The expert advisor studio review is high among our clients.
You know, traders are always limited to use good tools for trading. Usually, good tools for trading are not for free. Even if we can find open sources nowadays, we need to master high-tech skills, find good expert advisors and integrate the tools by ourselves.
There are a lot of problems in this developing mode.
First of all, it takes time to develop an expert advisor. Traders always spend much time optimizing the parameters.
And, there is no unified style in algorithmic trading. So, after one algo trading was verified to be not working, you needed to learn to develop another one from scratch.
And, time is valuable. So, developers actually are charging you a lot of money for converting the time of development to value under a name, so-called "for free".
Why do we need to pay extra money for verification before we pay for the tools that we really decide to buy? Owning an expert advisor builder free or owning an EA studio free download can save your money for something not necessary.
Actually, expert advisors have development patterns so that we can reuse most of the existing source codes. That's why Fintechee developed a Source Codes Generator which helps traders generate source codes of expert advisors by the development patterns. It extended algorithms of trading.
---
Code Your Expert Advisor in ONE Minute
Please access Expert Advisor Generator to try for free.
After you generate the EA source code, please run it on our WEB Trader. The Expert Advisor Generator can be accessed on our WEB Trader as well.
This EA code generator is very easy to use. We don't need to check any document or tutorial.
But, you know, just understanding how to generate EA source code is not sufficient to make a good expert advisor. We need to know the SDK and how to call the APIs in the SDK. We need to learn SDK trading, API trading.
Regarding more details of how to code EA for automated trading, please refer to our tutorial series: Expert Advisor Tutorial. We provide an SDK document for your further reference.
---
Expert Advisor Studio in Fintechee's Map
Our Expert Advisor Studio is not only an Expert Advisor Generator but also a playground for traders to connect with external resources to extend the functions. So, the value of Expert Advisor Studio is extensibility.
Our trading platform is a full-featured trading environment. On the backend, there are a lot of components, such as Order Book, FIX Engine, and Forex Aggregator(Price Aggregator). Expert Advisor Studio is just working on the frontend side and engaging with expert advisors, external resources, and the Javascript-based API.
So, to drill more value from Expert Advisor Studio, we need navigation to tell us where Expert Advisor Studio is in the huge architecture. Please read this article: Fintechee Trading Platform's Architecture to know where our Expert Advisor Studio is. This article is navigation for the traders who want to get benefits from our Expert Advisor Studio maximally.
---
Plugins for Expert Advisor Studio
As we mentioned, the purpose of providing Expert Advisor Studio is to extend the functions of our WEB Trader.
Plugins are playing an important role in extensibility. Because the external resources have their own structures, the EA source code of the plugin to engage with the resources can't be generated simply by the EA code generator.
Fortunately, Fintechee has provided a lot of plugins. The following plugins are very popular:
The amazing point is they are FOSS(free and open-sourced). And you can access our GitHub repository to get the EA source codes for these plugins.
---
Integartion with FIX API Trading Platform
If you are a sophisticated trader, you must have heard of Arbitrage Trading, HFT(High-Frequency Trading). They are related to FIX API.
Fintechee is an All-in-One trading platform. The backend is based on a FIX engine. Usually, this tech is oriented to financial institutions, fortunately, Fintechee made the FIX API trading platform usable to individual traders. And the Expert Advisor Studio is integrated with the FIX API trading platform individual version.
So, if you want to have an institution-like trading environment, please read the posts below to know more details.
If you want to get notified about our updates, please subscribe to our free newsletter.